a priest's musings on the journey
Tuesday, December 26, 2006
Perspective: On the Birth of God and the Death of Stephen
"What shall we offer you O Christ, who for our sake has appeared on earth as man? Every creature made by you offers you thanks. The angels offer you a hymn; the heavens, a star; the Magi, gifts; the shepherds, their wonder; the earth, its cave; the wilderness, the manger; and we offer you a virgin mother."-From a Prayer for the Orthodox Christmas Vespers Service.

... and we offer the Christ much more than a virgin mother. Before the song of the heavenly hosts fades from our ears, the Church turns its face from remembering the beginning of a new life in the manger, to recalling the ending of a life in the remembrance of St Stephen the Proto-Martyr. The story of St Stephen's martyrdom, points out what we sinful, broken humans offer to Christ the most. God offers us love, hope, and a new beginning; God even becomes one of us so that in God the fears and sufferings of humanity can be sanctified and life-giving. But in return for God's gracious self-offering of love, we offer God hate, selfishness, and rejection. He offers us new life in Christ; we attempt to destroy life. He freely gives Himself to us, yielding his power to become a helpless baby; we violently take what we want from others, lording authority to overpower and oppress the helpless.

On the face of things, this all seems bleak and pointless. It would appear that the entire Incarnation idea was a complete failure. But, the face of things does not reveal the real story. A worldly reading of these stories misses the perspective that God has on this story. In the larger context of God's story, this story is not tragic at all. It ia in fact full of hope and promise. It continues the story of the child born in the manger. In God's Story, the death of St Stephen is not the ending of a life; it is the beginning of a new life in God. It is not a defeat, it is a victory: it is a participation in God's victory over evil and death. In his martyrdom, Stephen is the first to experience that Christ-liness that was made possible for us to experience when God became one of us. And in his story, hope burns even stronger among us- if this one had become so united with God in Christ that he could forgive his murderers in the same way that our Lord had done, then there is a chance for the rest of us to be reunited with God. If even in death Stephen could life up his eyes and see Christ coming in love to receive him, then there is hope that in the darkest moments of our lives, that we can see Christ coming in love to recieve us. Stephen's story reminds us that it is not only Jesus who is able to overcome evil and oppression in his weakest moments; but, all of us who have been joined to Christ share in his victory over sin and death. In our weak moments of insecurity, powerlessness, and despair, Christ is the strongest, and if we are open enough, it is in these moments that the light of Christ shines the brighest in our hearts. It is in our own sufferings that we have the greatest potential to transform the sufferings of others by sharing God's love and compassion with others in sacrificial love. God sacrificed his holy otherness to be one with us, so we could be one with him. Stephen sacrificed his life so that the Body of Christ would be nurtured by his blood, and so that his oppressors would be liberated from their own enslavements (in fact the fruit of this liberation is seen just years later in the conversion of Saul). What are we willing to sacrifice for the sake of love and redemption? What sufferings will we expose to others for the sake of their healing? How vulnerable will we become in order to become united with those whom Christ seeks to bind to our hearts in redemptive communion? How will we allow the Incarnation to happen in our own lives? Where will we give birth to the Christ in our own world?
:: posted by Padre Rob+, 3:05 PM |
link
|
1 comments
|


Tuesday, December 19, 2006
Perspective: Ramblings on suffering
I'll just be frank. The hardest part of faith for me is dealing with the problem of suffering. I've had my share of pain in life- enough for a lifetime in the last four years. Yes, I have to admit that God has been present with me and yes God has redeemed the pain and brought good out of it. But why does it have to be this way? I'm not even talking about myself. I'm talking about the oppressive suffering of so many I see around me. Good people, honest people, holy people, who keep getting knocked down everytime they get up. C.S. Lewis once wrote, "God whispers to us in health and prosperity, but, being hard of hearing, we fail to hear God's voice in both. Whereupon God turns up the amplifier by means of suffering. Then his voice booms." I just don't know. That might be true for some people; but I see too many in pain who are closer to God than I will ever be.

This has all come to mind because someone who I love dearly is suffering at the hands of others injustly. This is not new. He has suffered this way for half of his life. He loves God, in fact he is one of the most Christ-like people I know. He doesn't even see that- which convinces me even more of his holiness. He has had the courage to walk away from lies and dishonesty and to walk into truth and integrity. He has a tender compassion for the poor, the marginalized, and the mistreated. Even in the deepest mire of his own pit of despair, he thinks of others- he hears God's call to work for the liberation of the oppressed... and he says, "Yes, Lord. Here I am, send me!" And it's not just words. Even now he is putting his words into action, visiting the poor on the streets, working for human rights for women and gays, and volunteering at an inner-city parish. He has a dream for even greater work for the Kingdom, and he has the compassion and intellect to bring that dream to reality, with the help of the Holy Spirit. He is self-less and giving; he gives of himself completely to others- he loves and cares and heals, even though he is overwhelmed senseless by his own scars and wounds. He makes me proud to be a Christian- I am blessed to know him and to have him in my heart.

So, why him? As compassionate and loving and kind as he is, as willing as he is to do the work of the kingdom, as open as he is to allowing the Christ-light to shine through him, why must he continue to suffer? What is the purpose? What is the reason? Yes, I believe God can redeem the pain and use it to strenghten his ministry to others... but How Long, O Lord, until you bring deliverance to the oppressed? How long before you prosper and heal those who trust in you? How long before you defend us and vanquish the oppressor?

When I was younger, in a Pentecostal tradition, I was taught that some suffering comes from the Evil One as a means of fighting the good work we are doing or as a means of tempting us to abandon God or lose our Faith in love and goodness. I don't know, but as I struggle for answers, I almost want to believe that- I want to blame it on the Devil. I want to believe that the holy are getting so close to conquering the darkenss in the world, that evil is attacking with full force to stop them. I'm a man with a simple faith. And even after all of my theological training, I am perplexed and dis-satisfied with the reasons for the suffering of the just.

All I know is that Christ is with us. I know that, I've experienced that. I know that God suffers when we suffer. I know that God cries when we do. I know that ultimately love will prevail- we remind ourselves of this hope everytime we celebrate the Eucharist, and recall God's triumph over the attempt to kill God. We gave God pain, suffering, alienation and death, and God transformed it into healing, love, inclusion, and life. I don't know why the suffering is here. I don't know how long it will last- perhpas a lifetime. All I have is the hope that God will redeem, and save, and heal. At least, I still have the hope. And I still have love- and I still believe love conquers all.
:: posted by Padre Rob+, 9:31 AM |
link
|
1 comments
|


Tuesday, December 12, 2006
Perspective: My Seven Wonders of the Christian Faith
Perhaps you have heard that there is a committee seeking your input on what the
New Seven World Wonders
should be. Possible choices include the Statue of Liberty, the Eiffel Tower, and the Great Wall of China. You may go online and cast your votes. The formal announcement will be made on 07/07/07 in Lisbon, Portugal.
Good Morning America and USA Today
have also recently announced a list of seven new world wonders, as determined by their panel of experts. Their list includes the City of Jerusalem, the Polar Ice Caps, and the Internet.
In the spirit of honoring the human acheivement with a list of 7 new wonders, I have decided to create a list of 7 Wonders of the Christian Faith (perhaps to be followed later by a more ecumenical 7 Spiritual Wonders). This list is completely subjective and honors what, in my opinion, are the 7 most sacred Christian pilgrimage sites.
The Seven Wonders of the Christian Faith
1. The Church of the Holy Sepulchre- Jerusalem
The Christian Story is anchored here: If Christ is not raised, your faith is worthless (1 Cor 15:14). The Church of the Holy Sepulchre hallows both the site of the Resurrection of the Christ and the Crucifixion of the Lamb of God on Calvary. The Church also recalls ancient and powerful mythic stories that connect us to a rich inheritance of Faith believed and passed on for thousands of years. One of my favorites is the Story told in the Chapel of Adam. Tradition tells us that Adam was buried in Golgotha, the place of the skull, the site where Jesus was Crucified. Orthodox icons of the Crucifixion depict the First Adam with a skull that lies under the Savior's Cross. The story of the icon, and of Holy Tradition commemorated in this chapel that lies directly beneath the altar of the Chapel of Calvary, celebrates the Christ's victory over Death as the Blood of the Second Adam seeps into the ground and offers life to the First Adam cursed with death. Even if one rejects the Substitutionary Atonement theory, there is something beautiful in this story which celebrates Christ offering blessing and life to the Adam who was cursed with death. If the original rebel can find mercy, then there is hope for all of us.



2. The Church of the Nativity- Bethlehem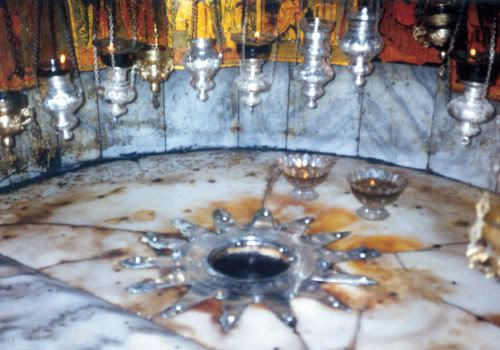 As important as the Death and Resurrection of Christ is to our Faith, that story can not be told without the telling of God becoming a human being and walking among us, in order to live our experience and to identify with our joys, fears, pains and triumphs. The star commemorates the place where God was born on that night when the angels sang in the heavens and shepherd bowed in adoration. It commemorates Love, and God's desire to become one of us, so that we could become like God.




3. Basilica of Our Lady of Guadalupe- Mexico City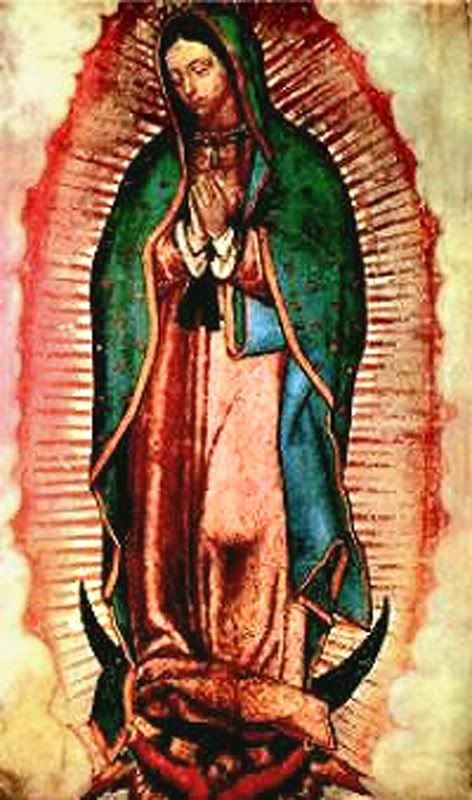 This holy place is particularly special to me because I was ordained a priest on the Feast of Our Lady of Guadalupe (December 12). Of course I begged the bishop to allow me to be priested on this day. Our Lady of Guadalupe is important to me as a gay man because she represents the inclusive gospel that the Church is trying to recover. It is a beautiful story, the Mother of God appears with a message; but, she does not appear to the archbishop or a priest. She appears to a poor, indigenous man who had recently converted. Moreover, she appears as a Native woman clothed in the sun. Her appearance and her message bear witness to the all inclusive self-giving love of God; a God in whose image all of the peoples of the Earth have been formed; a God who can be seen, loved, and served in each of us. A God who is truly one with us.



4. Shrine of Our Lady of Montserrat, Montserrat, Spain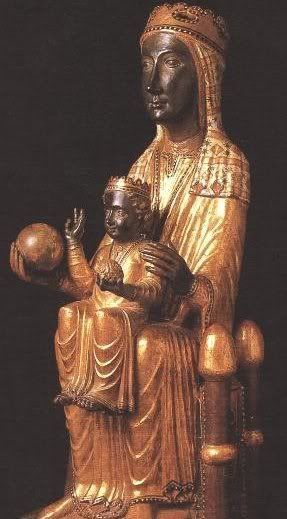 Pious tradition believes that this statue of Our Lady and the Christ Child, blackened by the flames of thousands of burning candles, was carved by St Luke and brought to Spain by St Peter in 50 AD. It was later hidden from the Moors in a cave, until the 8th century when shepherds, who were guided by a bright light and angelic singing, discovered it in the cave. The Bishop of Manresa built a shrine in Montserrat, and it became a major pligimage site. It was before this statue that St Ignatius of Loyola cast aside his sword and accepted the call of a missionary.



5. Glastonbury Abbey, Glastonbury, England
Glastonbury holds a mystical attraction for many seeking spiritual renewal. For centuries pilgrims have flocked to this holy site, which traditionally has been regarded as the seat of Christianity in England. It was here, according to legend, that Joseph of Arimethea and the boy Jesus built a church. After Jesus' crucifixion, Joseph returned with the Holy Grail, which he buried there for safekeeping. When he buried the cup that had once contained the blood of Christ, a spring flowed forth, known as Chalice Well. It is said that those who drink of its waters will have eternal youth. This myth later intertwined with another legend, and it was told that King Arthur, reportedly buried here, came to Glastonbury in search of the Holy Grail.



6. Christ Redeemer Statue, Rio de Janeiro, Brazil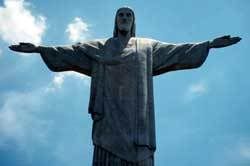 This statue of Christ stands on top of Corcovado Mountain in Tijuca National Park. It is 30 metres (98ft) tall, weighs 1,145 tons (2.5 million lbs.),and his arms span 92 feet, overlooking the city of Rio de Janeiro. This statue depicts the loving Savior who opens his arms wide to embrace the world. Every person is given his love and grace. There are no conditions, no pre-requisites, no limits. This Christ is looking over all that is dear to me, protecting, guarding, loving, and guiding. This Christ is the Light in the Darkness. illuminating the path to abundant life. This Christ is the Liberator who sets us free from the oppressions of others and from our own doubts and fears. This Christ is the miracle worker, through whom the impossible is made real.



7. Shrine of the Martyrs of Japan, Nagasaki, Japan
This is perhaps one of the most meaningful sites for me personally. I still remember standing in front of their shrine after reading their story and weeping. In 1597 26 Christians, some Japanese, some European missionaries, were marched from Kyoto to Nagasaki to be cruficied for their faith. A few were mere boys; yet possessing more courage and faith than most adults. THe crosses were made to measure for each one. When they arrived, the embraced their crosses and willingly allowed the executioners to do their jobs. On the crosses these men prayed, sang hymns, and preached the gospel to those who witnessed their martyrdoms. At the appointed time each was pierced with two spears in the chest, killing them instantly. When all had died, the Christians who witnessed their deaths burst throught he guards to soak cloths in the blood of the martys to ahve relics of these holy saints. These are the men who gave theor lives for the sake of the Gospel of Jesus Christ:


1. ST. FRANCIS, a carpenter from Kyoto, resolute and loyal, who insisted on following the martyrs until he was arrested and could join the group. Some of the chronicles call him Adautus, after a similar case in the early church.

2. ST. COSMAS TAKEYA, a sword-maker from Owari. He had been baptized by the Jesuits and worked as a catechist with the Franciscans in Osaka.

3. ST. PETER SUKEJIRO, a young man from Kyoto, sent by Fr. Organtino to care for the martyrs on their way to Nagasaki. His devotion to duty secured for him the grace of joining them.

4. ST. MICHAEL KOZAKI, a native of Ise, 46 yeas old and a bow maker. he was already a Christian when he first met he friars and his skill as a carpenter was a great help in building the Francisan convents and churches of Kyoto and Osaka. He also trusted them with something he treasured over everything else: his own son Thomas.

5. ST. JAMES KISAI, a Jesuit lay brother, a man of deep devotion to the Passion of Christ. Sixty-four years of age, he had known a life of hardships, and excelled for his kindness and peace of heart. Born in Okayama, he had been in charge of the guests at the Jesuit residence.

6. ST. PAUL MIKI, had been born in Tsunokuni district, the son of a brave soldier, Miki Handayu. Educated as a boy in the Jesuit schools of Azuchi and Takatsuki, he had witnessed the ups and downs of the Church in Japan. Paul Miki treasured his vocation to spread the gospel over everything else, and was near being ordained as a priest. the best preacher in the country he fell silent when the executioner's blow shattered his heart. He as only thirty years of age.

7. ST PAUL IBARAKI, born in Owari, of a samurai family. Baptized by the Jesuits, his faith went through a time of testing, and only in his final years could he find peace of soul, thanks to the Franciscans in Kyoto. He led a poor man's life near the Franciscan convent of Our Lady of the angels, running a small sake brewery to support his family, and could still afford to help others poorer than himself. He was also native as a preacher.

8. ST. JOHN OF GOTO, a portrait of innocence and joy, a short life of 19 yeas fully used in the service of God. Born in the Goto islands fom parents already Christian, he studied with the Jesuits in Nagasaaki, and then at the Jesuit school in Shiki(Amakusa), a training center for catechists who also help the missionaries as painters or musicians. His next post was Osaka where he worked under Fr. Morejon until the Lord offered him the crown of martyrdom.

9. ST. LOUIS IBARAKI, the youngest of the group, only 12 years old. He had been born in Owari and was the nephew of Paul Ibaraki and Leo Karasumaru. an endearing boy who kept singing and laughing when they cut off one of his ears, all through the long march to Nagasaki and on the cross too, he proved his mettle when he refused pointblank to be cajold into apostatizing. "We have little Louis with us - wrote Fr. Francis Blanco on he eve of martyrdom - and he is so full of courage and in such high spirits that it astonishes everybody.

10. ST. ANTHONY, born Nagasaki of a Chinese father and Japanese mother. An artless boy 13 years old, he had received his first education at the Jesuit school in Nagasaki and went then to the Franciscan convent in Osaka. The bitterest thing the boy was to see was his mother crying not far from his cross. He died a singing martyr.

11. ST. PETER BAPTIST. Superior of the Franciscan Mission in Japan, former ambassador from Spain, a father to the poor lepers, a captain of martyrs. From San Esteblan del Valle (Avila, Spain) where he was born, to Nishizaki Hill, his life of 50 years is too rich in merits and holiness to be summarized here.

12. ST. MARTIN OF THE ASCENSION, born in Guipuzcoa, Spain. He was 30 years old, His purity of heart was extraordinary, and this may be a clue to his fondness for singing. Told by his superiors to be ready to go to the Philippines, he went to Seville. In the old Franciscan convent he used o spend the nights in prayer, taking turns with another friar. His missionary work in Japan (Osaka) was short lived, but his death was most outstanding.

13. ST. PHILIP OF JESUS, a mexican, 24 years old. a vase of sterling silver, which God knew how to emboss. His young life had been a maze of conflicting roads, a contest of trength between Christ and Philip, neither of the two willing to concede defeat. In the end Christ had emerged the victor, and Philip is now anxious to make up for the lost time: he will be the first to die.

14. ST. GONZALO GARCIA, 40 years, born in the remote Bazain, (India) of a Portugeuse father and an Indian mother. A catechist with the Jesuits and a trader in Macao, he entered the Franciscans as a lay brother, and was thee right hand of St. Peter Baptist. He spoke Portuguese with a stutter, but when he confronted Hideyoshi, absolute ruler of Japan, his Japanese came out without a hitch. He is the patron saint of Bombay.

15. ST. FRANCIS BLANCO, was born in Monterrey (Galacia, Spain) and came to Japan with St. Martin of the Ascention. Like him, he had also traveled on foot to Seville before boarding a ship for Mexico and proceeding to the Philippines. A quiet, soft spoken man and extremely intelligent.

16. ST. FRANCIS OF ST MICHAEL, 53, born in La Parrilla (Valladolid, Spain). He was so unassuming in life that he well deserves a special eulogy after death. "Seeing his good heart, physical strength and simplicity, he was accepted into the Order as a lay brother", say an old chronicler appropriately. Br. Francis had his own brand of humour too: "The bell for diner will toll tomorrow", he used to answer when asked to break his fast. When he was in Manilla he enjoyed breathing "the winds from Japan" but once he set foot on the Japanese mission he had to go through a dark night of the soul feeling that he was useless and had better return to the Philippines. He died in silence, just as he had lived.

17. ST. MATTHIAS. We know nothing about his age, place of birth or date of baptism, only his name and the reason why he joned the martyrs. The soldiers were looking for another Matthias who could not be found. Or saint offered himself and the soldiers gladly accepted him. God accepted him too.

18. ST. LEO KARASUMARU, from Owaru, younger brother of St. Paul Ibaraki. a bonze in his youth, he was converted by Japanese Jesuit and always led an exemplary life. When the Frnciscans arrived, he became their main support. When it as a matter of building a church, buying a piece of land or running a hospital, the friars could always count on Leo. A zealous catechist and a man of prayer, he was a leading figure among the lay martyrs.

19. ST. BONAVENTURE. His young life bears the seal of inscrutable ways of Providence. Baptzed as an infant, he soon lost hhis mother, and his sepmother sent him to a Buddhist monastery. One day he found out abou his baptism, and came to visit the Fraciscan convent in Kyoto, his place of birth, eager to have further information. here he found agin his peace of soul. On his way to the cross he prayed for his father's faith and the conversion of his stepmother.

20. ST. THOMAS KOZAKI. With the rugged manners of a country boy, this fourteen year old had a beautiful heart, much like the Pearls of his native Ise. He was already Christian when he became acquinted with the Franciscans while helping his father as a carpenter, and stayed at the Fanciscan convent once the job was finished. He wa straightforward, unhesitant and totally committd in his service to God. His farewell letter to his mother, written from Mihara castle is one precious stone more in the saga of the 26 Martyrs.

21. ST.JOACHIM SAKAKIBARA, 40 year old, a native of Osaka. In gratitude for his baptism, received from a catechist when he was gravely ill, Joachim helped out in the construction of he Franciscan convent in Osaka and stayed on here as a cook. A an of very strong character, he excelled for his kindness and readiness to serve, a fitting preparation for the martyrs' crown.

22. ST FRANCIS. Born in Kyoto, 48 years old. He was a physician and a zealous preacher. While still a pagan he used to wear a rosary that had belonged to Otomo Sorin, rhe Christian lord of Bungo. Divine Providence brought him into contact with the Franciscans, after his Baptism and the conversion of his wife, he lived next door to the franciscan convent, treating the sick without pay, and leading them to Christ.

23. ST THOMAS DANGI. A druggist, with an extremely violent disposition, he mellowed with God's help into a kindhearted catechist. A Christian of many years, he opened his shop next to the Franciscan convent of Our Lady of the Angels, and while selling medicine he also took care to show the customers the way to heaven.

24. ST. JOHN KINUYA, 28 years old, from Kyoto. A silk weaver and trader, he had recently been baptized and moved his shop next to the convent. His silk fabrics, smooth and brightly coloured, expressed the quality of John's prayers and love. And God graciously accepted John's life of work and prayer.

25. ST. GABRIEL, a native of Ise, 19 years old, another young life ungrudingly offered to God. Converted by Br. Gonzalo, he made quick progress in his way to God, overcoming all kinds of obstacles. Gabrel worked as a catechist.

26. ST. PAUL SUZUKI, 49 years old, from Owari. His cross was at the end of the row and his voice, all fire and zeal, could be heard un impeded. He had received baptism 13 years before. A man of impetuous character - and many a scar on his body to testify to that - he excelled for his apostolic zeal and was one of the best catachists helping the Franciscans. He was also in charge of St Joseph's Hospital in Kyoto.

(Thanks to Diego Yuki, SJ, for the information on the martyrs.
:: posted by Padre Rob+, 11:58 PM |
link
|
0 comments
|


Saturday, December 09, 2006
Sermonette: 2 Advent C 11 November 2006 Prepare the Way of the Lord
Baruch 5:1-9
Jerusalem, take off your robe of mourning and misery;
put on the splendor of glory from God forever:
wrapped in the cloak of justice from God,
bear on your head the mitre
that displays the glory of the eternal name.
For God will show all the earth your splendor:
you will be named by God forever
the peace of justice, the glory of God's worship.
Up, Jerusalem! stand upon the heights;
look to the east and see your children
gathered from the east and the west
at the word of the Holy One,
rejoicing that they are remembered by God.
Led away on foot by their enemies they left you:
but God will bring them back to you
borne aloft in glory as on royal thrones.
For God has commanded
that every lofty mountain be made low,
and that the age-old depths and gorges
be filled to level ground,
that Israel may advance secure in the glory of God.
The forests and every fragrant kind of tree
have overshadowed Israel at God's command;
for God is leading Israel in joy
by the light of his glory,
with his mercy and justice for company.
Luke 3:1-6
In the fifteenth year of the reign of Tiberius Caesar,
when Pontius Pilate was governor of Judea,
and Herod was tetrarch of Galilee,
and his brother Philip tetrarch of the region
of Ituraea and Trachonitis,
and Lysanias was tetrarch of Abilene,
during the high priesthood of Annas and Caiaphas,
the word of God came to John the son of Zechariah in the desert.
John went throughout the whole region of the Jordan,
proclaiming a baptism of repentance for the forgiveness of sins,
as it is written in the book of the words of the prophet Isaiah:
A voice of one crying out in the desert:
"Prepare the way of the Lord,
make straight his paths.
Every valley shall be filled
and every mountain and hill shall be made low.
The winding roads shall be made straight,
and the rough ways made smooth,
and all flesh shall see the salvation of God."
I was raised in a Pentecostal tradition and the idea of repentance was one that had been clearly inculcated in my spiritual experience already when I was six or seven years old. I remember walking the aisle and having the preacher say a prayer with me and asking God to forgive me of my sins and asking Jesus to come into my heart. Of course I had no idea what I was doing; I just didn't want to go to hell, and of course I loved Jesus and wanted to be his friend. But let's be honest, nothing really changed in my seven year old heart and life (partly because now I realize I was Christ's already before that.) The real change came much later in my life; my true act of repentance happened while I was at Duke Divinity School, when I made the decision to leave the church of my youth and become a member a Church rooted in catholic Tradition and grounded in apostolic succession. This was a monumental, life-altering decision for me. I had to let go of everything I thought I knew about God and the Christian experience , and open myself up to new and unknown realities. In its essence that is what repentance is. Yes, it is often worked out in our lives by a willful turning away from our own selfish desires and turning towards God and God's desires- and the result of this turning is sorrow for our sins that have offended God and a desire to do penance in thanksgiving for the mercy God gives us. However, repentance is much bigger than confessing our sins and asking for God's mercy. Repentance is about lifestyle changes, shifts in worldview, and paradigm alterations. It is about being willing to turn away from the known and comfortable in our lives and experience with God in order to turn toward new realities that the Holy Spirit is bringing to pass. The Episcopal Church has been called to repent for having consecrated a partnered gay man to be bishop and for having installed a female Primate who supports the full inclusion of gays and lesbians in the Church; yet, the Episcopal Church has already demonstrated a spirit of repentance in following the Holy Spirit's calling to turn away from the oppressive structures of an exclusive Institution and to turn back to God's liberating reality of love and inclusion of every person has put on Christ in baptism and has confessed Jesus is Lord.
Both the Old Testament and the Gospel Readings speak of repentance. The Prophet Baruch*, who was the secretary of the Prophet Jeremiah, is writing to the people of God exiled in Babylon. In the section from which our reading is taken, the prophet is speaking words of hope and encouragement to God's people. Using imagery familiar to us from Isaiah, he speaks of the day when mountains will be raised and valleys exalted and rough places made smooth so that the people of God may return to Jerusalem rejoicing, with no worries of barriers or obstacles. It is a lovely scene, in fact, to imagine a people formerly oppressed rising up, following God to liberation and redemption, and rejoicing and praising God as they turn away from bondage and oppression and turn towards a new reality of mercy and justice in God's City of Peace. Jerusalem has fallen to Nebuchadnezzar and is in ruins; but there is hope. God will restore, God will redeem, and God will make Jerusalem a city whose glory is known in all the world- if the people of God can only repent and turn away from what they know in order to turn toward the dream of God for them.
St John the Baptist uses the very same imagery in his sermons on the banks of the Jordan. He too preaches words of comfort to those who would hear it; In the midst of the oppression that is alluded to in the roll call of tyrants and corrupt religious leaders, John declares, "the Lord is coming, and all people shall see the salvation of the Lord." John preaches that the day of liberation has come, and that God will set us free. In order to receive this new reality, John calls the people of God to repentance. He calls them to turn away from their sins, their self-centeredness, and the old ways of living and knowing God, and to turn towards God, open to the new work that God is about to do in the world. As we repent, as we let go of our preconceived ideas of who God is and what God's reign is like, and make room to let God be God and to let God's Reign come into being as God wills it, then the rough places are made smooth, and the valleys are filled, and the mountains are made low, and the Lord is able to appear to us in all of God's glory and we are able to experience and to participate in the salvation of God's reign of mercy, love, and justice.
Of course the larger context here is the apocalyptic coming of Christ to once and for all establish the Reign of God and the Day of Peace when, truly and finally "all people shall see the salvation of the Lord." But it also speaks to our need to prepare for that Day by preparing ourselves to know the reality of that Day even now in our own hearts and lives. John calls us too to repentance. We are called to make straight the roads in our soul so that the Lord may come to us unhindered. We are called to stop looking at our own desires and dreams, and to look at God's desires and dreams for us. We are called to let go of what we think is right for us, and to accept God's dreams for us. We are called to bear witness to God's Reign and Christ's Presence in the world by living holy lives, by loving our neighbor, and by incorporating acts of mercy and justice in our daily living. Only then is the way prepared for the Lord's Coming; only then will it be possible for us to look East and to rejoice because the Lord is coming and because the Day is here when "all people will see the salvation of the Lord."
* I am a sucker for Holy Tradition, in most cases. I am aware that Baruch was not the author, and that this was written hundreds of years after he and Jeremiah died.
:: posted by Padre Rob+, 8:39 PM |
link
|
3 comments
|


Sunday, December 03, 2006
Sermonette: First Sunday in Advent C 2006
Sermonette First Sunday in Advent C

Zechariah 14:4-9
4On that day his feet shall stand on the Mount of Olives, which lies before Jerusalem on the east; and the Mount of Olives shall be split in two from east to west by a very wide valley; so that one half of the Mount shall withdraw northward, and the other half southward. 5And you shall flee by the valley of the Lord's mountain, for the valley between the mountains shall reach to Azal; and you shall flee as you fled from the earthquake in the days of King Uzziah of Judah. Then the Lord my God will come, and all the holy ones with him. 6On that day there shall not be either cold or frost. 7And there shall be continuous day (it is known to the Lord), not day and not night, for at evening time there shall be light.
8On that day living waters shall flow out from Jerusalem, half of them to the eastern sea and half of them to the western sea; it shall continue in summer as in winter. 9And the Lord will become king over all the earth; on that day the Lord will be one and his name one.

Luke 21:25-36
25"There will be signs in the sun, the moon, and the stars, and on the earth distress among nations confused by the roaring of the sea and the waves. 26People will faint from fear and foreboding of what is coming upon the world, for the powers of the heavens will be shaken. 27Then they will see 'the Son of Man coming in a cloud' with power and great glory. 28Now when these things begin to take place, stand up and raise your heads, because your redemption is drawing near."
29Then he told them a parable: "Look at the fig tree and all the trees; 30as soon as they sprout leaves you can see for yourselves and know that summer is already near. 31So also, when you see these things taking place, you know that the kingdom of God is near. 32Truly I tell you, this generation will not pass away until all things have taken place. 33Heaven and earth will pass away, but my words will not pass away. 34"Be on guard so that your hearts are not weighed down with dissipation and drunkenness and the worries of this life, and that day catch you unexpectedly, 35like a trap. For it will come upon all who live on the face of the whole earth. 36Be alert at all times, praying that you may have the strength to escape all these things that will take place, and to stand before the Son of Man."


Today we begin a new liturgical year and a new liturgical season as we enter Advent. We move to cycle C in the lectionary, and leave the Gospel of Mark for the Gospel of Luke. We will basically follow St Luke's Gospel in course during this coming year; but, on this first Sunday of the new liturgical year we begin with the end of the Story. All of today's readings describe that Day when Christ will return in clouds of glory, to once and for all banish evil and establish the reign of Justice and Peace that God gave him when he conquered sin and death on the Cross.

When I hear the words in the Gospel reading concerning the signs in the heavens and the distress among the Nations and the fears that grip humanity, I can not help but think about those Left Behind novels/movies, that are meant to scare us into the kingdom of God. That point of view misses the entire purpose of these apocalyptic passages. These words are not given to terrorize us; they are given to offer us hope. The hope that good will conquer evil, that love will overcome fear and suffering, and that in the end God will vindicate the oppressed and save His beloved.

The events described in these readings are not descriptive of some Great Period of tribulation and suffering that will occur just before Christ's Return. These readings describe life as it is for us, who still live world where Christ reigns, but where we are still influenced by the rebellious forces of the Evil One. They describe human history and our struggles against suffering, evil and oppression. To be fair to our Evangelical brothers and sisters, the Scriptures do give the sense that human suffering and the rebellion of Evil against God will get worse before the Day of God's final vindication. All one has to do is watch CNN for thirty minutes to become convinced of the reality that these readings are trying to portray. Our world is gripped with fear and overwhelmed with the oppressive powers of evil; not only far away in places like Iraq and Darfur; but in our own neighborhoods, even in our very own hearts. Frankly, I don't see how people with no faith wake up in the mornings and get on with their lives! Even though I have a very deep faith in Jesus Christ, there are days when I am overwhelmed with the pain and suffering in my own life- not to mention how powerless one feels when one thinks about the ravages of war, disease, greed and the abuses of power in the world (and the Church!).

Luke is not writing to frighten or to depress us; he writes to remind us of our Hope. Our hope is in Christ, who is coming to rescue us, to liberate us, to overthrow the powers of darkness and to establish God's Reign of love and peace forever! Jesus tells us to be alert, to watch and to pray, because His coming will be when we least expect it. Just when we when feel that we can not bear the pain of our oppression any longer, then He will come to deliver and save us.

This sense of expectant waiting and alert watchfulness gets at the root of what this season of Advent is all about. We eagerly yearn from this Day of Peace to arrive in its fullness. During these weeks we are attentive, looking for the signs of His appearing, watching for those glimpses of Hope that show us that the Day of our Redemption is drawing near. It's a time of excitement and anxious anticipation: we can hardly wait for its arrival- it's like we are all children on Christmas Eve all over again, waiting for morning and all of the surprises that await us.

This is the same sense of expectation that I felt as I awaited the births of my sons. When I first heard the news that I would be a father, I was filled with joy and anticipation. I have never been so excited- and I wanted to experience every moment of the preparations for his arrival. As the months progressed, it seemed as if he'd never come. Those were the longest nine months of my life- and I can't even imagine the longing his mother had for the birth. But, just when we thought we would we couldn't wait any longer, he'd let us know that he was with us already. He'd poke mommy's belly or roll his head around, to let us know he was already a part of us.

I wonder how Mary felt in those months when she was waiting to give birth to God. How blessed she was to be the God-Bearer! How humbled she must have been to realize that the Creator of the Universe had contained Himself in her womb. In these weeks of Advent, we can know some of what she felt. We too are awaiting the birth of Christ- not only in the manger in Bethlehem- but in our own lives, in our own world. During these weeks Christ is growing in us, and we too are being overshadowed by the Holy Spirit; we too are being prepared to be Christ-bearers. God is waiting to be born in us, in those moments when we least expect Him to come; in those moments when we are overwhelmed by suffering and despair; in those moments when others around us are about to succumb to the powers of darkness that assail them. If we are alert, if we are watching and praying - we are able to bear Christ to them in that moment when they need Christ the most. It is in these moments, when Christ makes himself known in the faces of the poor, in the cries of the hungry, in the tears of the oppressed, in the silent sighs of the lonely- it is in these moments that we are reminded that, although we feel that we can not wait another second for His appearing, that He is already with us, He is already a part of us, because we are a part of Him. We are strengthened in hope and faith, and we have the peace of believing that He will one day appear in Glory and vanquish the powers of darkness forever. We have the assurance and trust, that even if we see the sun darkened, the moon turned to blood, and the stars falling from the sky, we do not have to be afraid, because when we see those things, we can trust that the Creator of the Stars of Night has heard our cries for justice and for redemption, and the day of our salvation is closer than we can even imagine- that Day when the Light from Light will shine not only in our hearts, but in all and through all, as all things are once again reconciled to their loving Creator.

"when these things begin to take place, stand up and raise your heads, because your redemption is drawing near…when you see these things taking place, you know that the kingdom of God is near."

" Then the Lord my God will come, and all the holy ones with him. On that day there shall not be either cold or frost. And there shall be continuous day (it is known to the Lord), not day and not night, for at evening time there shall be light.
On that day living waters shall flow out from Jerusalem, half of them to the eastern sea and half of them to the western sea; it shall continue in summer as in winter. And the Lord will become king over all the earth; on that day the Lord will be one and his name one. "

Amen. Let it be so. Even so, Come quickly, Lord Jesus! Amen.
:: posted by Padre Rob+, 7:51 PM |
link
|
1 comments
|


Saturday, December 02, 2006
Sermonette: Advent: Prepare your hearts! Christ is Coming!
Tonight at sundown the Church begins the season of Advent. The word Advent means coming or arrival. During Advent, the Church prepares itself and awaits in expectant anticipation the coming of Christ in the manger in Bethlehem. It also joins with all of nature, which is groaning in anticipation of its redemption, for future coming of Christ in clouds of glory, when Evil will be vanquished, the final redemption of the universe will be accomplished, and God's Reign of Peace will hold sway.

During these four weeks of Advent, the Church's sense of being caught between the Coming of Christ as the Incarnation of God as a human being and the Coming of Christ as the Reigning King of the Universe is heightened. Our readings in worship and prayer, and the imagery and rituals of Advent all point to the darkness of our world and the coming Light that will shatter the darkness and radiate all of creation with the splendor of God's glory. As we grow closer to that Light, we begin become more aware of the darkness in our own hearts. So we are called by the Holy Spirit to repentance; we are called to examine ourselves and to turn away from those things that dim the Christ Light in our hearts. We are called to prepare ourselves for the Coming of Christ, and to be alert and watchful, because He will come when we least expect it.

Although this is a pentitential season, it is also a hopeful season. We spend time looking at the darkness of our heart; but, we rejoice that God has not abandoned us in our sinfulness. God has shined His Light in our hearts, God has already come and walked among us; God is with us; God is tranforming us to be like God. Our preparation and penance culminates with the celebration of Christ's first coming, when we stand at awe before the mystery of a God, whom the Universe can not contain, who became a helpless baby in order to show us the way of salvation. Because we see love and Light of God shining in the holy child Jesus, we are confidant that we will see that same Jesus returning to conquer sin and evil once and for all at the culmination of history. Because we see that God loved us so much, that he became one of us so that he could identify and sanctify our pain and suffering, our joys and delights, and our hopes and fears, we can trust that God's love will overcome Evil in the end.

One of the customs of this season is the lighting of Advent Candles in an Advent wreath. The evergreen wreath is symbolic of the eternal life of God that is offered to each of us. The four candles represent the time of waiting that we must endure as we anticipate Christ's coming. The flames of candles are symbolic of the Light of Christ that is shining in the darkness, and our call to be Light in the world. As the weeks of Advent progress, more candles are lit, symbolizing the recession of darkness as the Light of God and our Hope for Christ's coming grows stronger. In the Latin Rite, 3 purple candles and one Rose candle are used in the wreath. Purple is the color of repentance (also used during Lent) as well as the color of royalty, used in anticipation of the Coming of Christ the King. The Rose candle, lit on Gaudete Sunday (meaning "Rejoice") and on evenings of the Third week of Advent, points to the rejoicing that we feel as the Coming of Christ gets closer. During this week we get a break from the pentitential aspects of the season, and concentrate more on the Hope and Joy of Christ's coming among us.

In the Anglican Tradition, there has been a revival of the Sarum Rite in many parishes during Advent. Sarum means Salisbury in Latin. The Sarum Rite refers to the litugical tradition and Rite that was used at Salisbury Cathedral and much of England before the Refornation. It is different than the Roman Rite in several ways. One of the differences is its elaborate liturgical color scheme. In the Sarum Rite, blue is used during Advent. The recovery of Sarum blue in Advent differentiates the season from Lent, and places the emphasis less on penitential preparation and more on a meditative, introspective preparation for the promised Comings of Christ.

Sarum blue is also appropriate for Advent because of its association with the Mother of God, who is our greatest companion during this period of hopeful waiting. Although the Sarum Rite used white for The Virgin Mary, the Roman Rite uses blue for her, and she is readily brought to heart and mind when we see her color in the candles and fabrics of the liturgical hangings and vestments.

Advent is also a time where we are called to be still; to be quiet, to look within ourselves to see God within us and to see how those life practices that threaten to separate us from God. It is a time of gestation and growth, as we lay aside those selfish/dark practices that dim God's light within us, and take on more Christ/God centered practices which will enable the Christ to be born in us. Because of the busy-ness that the secular world brings to our lives during these weeks, one must be diligent and intentional in creating space in one's life for meditation, introspection, and silence. The practice of creating a home advent wreath, blessing it and lighting it with simple prayers before dinner is one way to do that. You might also consider journaling, enaging in forms of contemplative prayer, such as centering prayer, lectio divina, or yoga, or making time for a quiet walk where you can clear you thoughts and quieten your soul to hear a word from God (you might be surprised through whom or through what God reveals Himself to you).

Here is a simple service you can use in your home with your friends and/or family as you light the advent wreath. Or, you can join me each evening with a Service of Light and Advent Devotions before Evening Prayer at my podcast... you can listen here www.switchpod.com/p6026.html

Tonight, my son and I will bless our Advent wreath, and say Compline- you can listen at the above link if you'd like.

Here's the Advent Wreath Service of Light


The family gathers around the wreath (which is not yet lit).

Leader: Light and peace, in Jesus Christ our Lord.
People: Thanks be to God.
Leader: Let us pray.

Prayer for the first week of Advent
Almighty God, give us grace to cast away the works of darkness, and put on the armor of light, now in the time of this mortal life in which your Son Jesus Christ came to visit us in great humility; that in the last day, when he shall come again in his glorious majesty to judge both the living and the dead, we may rise to the life immortal; through him who lives and reigns with you and the Holy Spirit, one God, now and for ever. Amen.

Prayer for the second week of Advent
Merciful God, who sent your messengers the prophets to preach repentance and prepare the way for our salvation: Give us grace to heed their warnings and forsake our sins, that we may greet with joy the coming of Jesus Christ our Redeemer; who lives and reigns with you and the Holy Spirit, one God, now and for ever. Amen.

Prayer for the third week of Advent
Stir up your power, O Lord, and with great might come among us; and, because we are sorely hindered by our sins, let your bountiful grace and mercy speedily help and deliver us; through Jesus Christ our Lord, to whom, with you and the Holy Spirit, be honor and glory, now and for ever. Amen.

Prayer for the fourth week of Advent
Purify our conscience, Almighty God, by your daily visitation, that your Son Jesus Christ, at his coming, may find in us a mansion prepared for himself; who lives and reigns with you, in the unity of the Holy Spirit, one God, now and for ever. Amen.

The candle or candles may now be lit

O Gracious Light Phos hilaron (said together)

O gracious Light,
pure brightness of the everliving Father in heaven,
O Jesus Christ, holy and blessed!
Now as we come to the setting of the sun,
and our eyes behold the vesper light,
we sing your praises, O God: Father, Son, and Holy Spirit.
You are worthy at all times to be praised by happy voices,
O Son of God, O Giver of life,
and to be glorified through all the worlds.

Scripture Reading
(Suggested passages for the day are listed below)

After the reading
Reader: The Word of the Lord
All: Thanks be to God

The Peace
Leader: The peace of the Lord be with you
All: And also with you

Prayer
Leader: The Lord be with you
All: And also with you
Leader: Let us pray

All pray The Lord's Prayer

Leader: The Lord bless us and keep us. Amen.
The Lord make his face to shine upon us and be gracious to us. Amen.
The Lord lift up his countenance upon us and give us peace. Amen.

Leader: Let us bless the Lord.
People: Thanks be to God.

Put out the candle or candles

Suggested Bible passages

First Week
Sunday Matthew 25:1-13
Monday Isaiah 1:16-18
Tuesday Isaiah 60:1-3
Wednesday Psalm 43: 3-5
Thursday Isaiah 58:6-9
Friday 1 John 2:8-11
Saturday 1 John 3:1-2

Second Week
Sunday Isaiah 40:1-5
Monday Revelation 1:7-8
Tuesday Matthew 22:41-45
Wednesday Hosea 11:3-4
Thursday Psalm 130
Friday Micah 6:6-8
Saturday Jeremiah 14:8-9

Third Week
Sunday Isaiah 9:6-7
Monday Isaiah 7:10-14
Tuesday Isaiah 11:1-6
Wednesday Isaiah 40:10-11
Thursday Isaiah 52:7
Friday Jeremiah 33:14-16
Saturday Malachi 3:1-2

Fourth Week
Sunday John 3:16-21
Monday Luke 1:1-25
Tuesday Luke 1:26-38
Wednesday Luke 1:39-56
Thursday Luke 1:57-66
Friday Luke 1:67-80

Dec. 24 Matthew 1:18-25

Not all fourth week readings are each year. Skip to the Christmas Eve reading on the 24th
:: posted by Padre Rob+, 7:15 PM |
link
|
0 comments
|


Friday, December 01, 2006
Perspective: World AIDS Day
The first person that I ever knew (in my real world) to be infected with HIV was a white, heterosexual, female. I had just returned to my parent's home after failing to find myself in Europe after graduating college, and was renewing old friendships. When I saw Beth (we'll call her) for the first time in a year, I could immediately tell that something was wrong. It took a few weeks, however, for her to tell me she had been infected with HIV. I have to admit, I was frightened. I was not very sure about how this virus could be contracted- ok, I knew some of the ways that one could get infected, but I was very naive. I had no choice but to educate myself- at first for my own protection.
Since then, I have come to know many men and women who are HIV positive. Most of these people are gay, and many of them are Christian, living productive lives and building God's kindom in their communities. Two members of my family are also positive. I have seen first hand how one's life can be challenged because of this virus.
Today, the world pauses to reflect on HIV/AIDS, to offer prayers for healing, to dialogue about how we can better prevent the spread of HIV, and to support the thousands of brave men, women, and children who are struggling to live with HIV.
To find out more information and to see how you can help, click the ribbon below.
Click
here
for a wonderful World AIDS Day sermon, and
here
for a
Litany for World AIDS Day
, prepared by the United Church of Christ.
:: posted by Padre Rob+, 3:57 AM |
link
|
0 comments
|