a priest's musings on the journey
Tuesday, December 12, 2006
Perspective: My Seven Wonders of the Christian Faith
Perhaps you have heard that there is a committee seeking your input on what the
New Seven World Wonders
should be. Possible choices include the Statue of Liberty, the Eiffel Tower, and the Great Wall of China. You may go online and cast your votes. The formal announcement will be made on 07/07/07 in Lisbon, Portugal.
Good Morning America and USA Today
have also recently announced a list of seven new world wonders, as determined by their panel of experts. Their list includes the City of Jerusalem, the Polar Ice Caps, and the Internet.
In the spirit of honoring the human acheivement with a list of 7 new wonders, I have decided to create a list of 7 Wonders of the Christian Faith (perhaps to be followed later by a more ecumenical 7 Spiritual Wonders). This list is completely subjective and honors what, in my opinion, are the 7 most sacred Christian pilgrimage sites.
The Seven Wonders of the Christian Faith
1. The Church of the Holy Sepulchre- Jerusalem
The Christian Story is anchored here: If Christ is not raised, your faith is worthless (1 Cor 15:14). The Church of the Holy Sepulchre hallows both the site of the Resurrection of the Christ and the Crucifixion of the Lamb of God on Calvary. The Church also recalls ancient and powerful mythic stories that connect us to a rich inheritance of Faith believed and passed on for thousands of years. One of my favorites is the Story told in the Chapel of Adam. Tradition tells us that Adam was buried in Golgotha, the place of the skull, the site where Jesus was Crucified. Orthodox icons of the Crucifixion depict the First Adam with a skull that lies under the Savior's Cross. The story of the icon, and of Holy Tradition commemorated in this chapel that lies directly beneath the altar of the Chapel of Calvary, celebrates the Christ's victory over Death as the Blood of the Second Adam seeps into the ground and offers life to the First Adam cursed with death. Even if one rejects the Substitutionary Atonement theory, there is something beautiful in this story which celebrates Christ offering blessing and life to the Adam who was cursed with death. If the original rebel can find mercy, then there is hope for all of us.



2. The Church of the Nativity- Bethlehem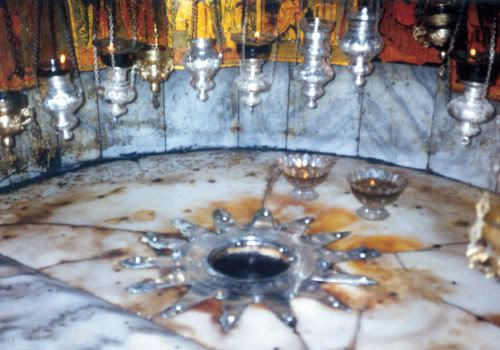 As important as the Death and Resurrection of Christ is to our Faith, that story can not be told without the telling of God becoming a human being and walking among us, in order to live our experience and to identify with our joys, fears, pains and triumphs. The star commemorates the place where God was born on that night when the angels sang in the heavens and shepherd bowed in adoration. It commemorates Love, and God's desire to become one of us, so that we could become like God.




3. Basilica of Our Lady of Guadalupe- Mexico City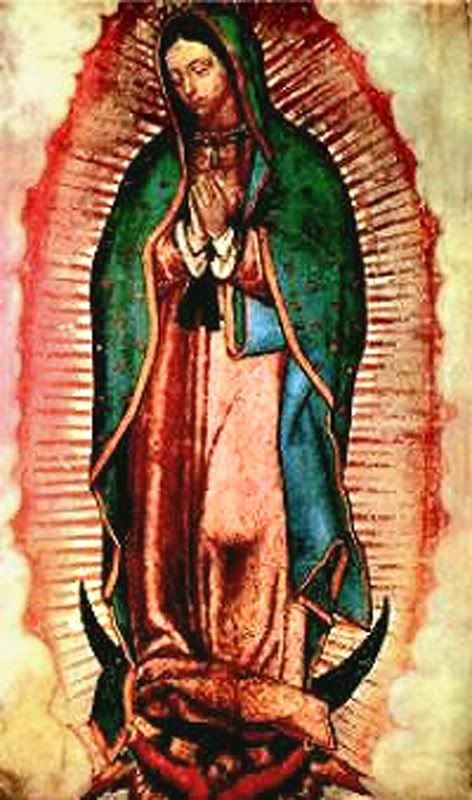 This holy place is particularly special to me because I was ordained a priest on the Feast of Our Lady of Guadalupe (December 12). Of course I begged the bishop to allow me to be priested on this day. Our Lady of Guadalupe is important to me as a gay man because she represents the inclusive gospel that the Church is trying to recover. It is a beautiful story, the Mother of God appears with a message; but, she does not appear to the archbishop or a priest. She appears to a poor, indigenous man who had recently converted. Moreover, she appears as a Native woman clothed in the sun. Her appearance and her message bear witness to the all inclusive self-giving love of God; a God in whose image all of the peoples of the Earth have been formed; a God who can be seen, loved, and served in each of us. A God who is truly one with us.



4. Shrine of Our Lady of Montserrat, Montserrat, Spain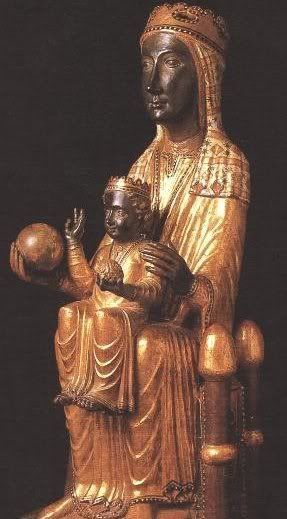 Pious tradition believes that this statue of Our Lady and the Christ Child, blackened by the flames of thousands of burning candles, was carved by St Luke and brought to Spain by St Peter in 50 AD. It was later hidden from the Moors in a cave, until the 8th century when shepherds, who were guided by a bright light and angelic singing, discovered it in the cave. The Bishop of Manresa built a shrine in Montserrat, and it became a major pligimage site. It was before this statue that St Ignatius of Loyola cast aside his sword and accepted the call of a missionary.



5. Glastonbury Abbey, Glastonbury, England
Glastonbury holds a mystical attraction for many seeking spiritual renewal. For centuries pilgrims have flocked to this holy site, which traditionally has been regarded as the seat of Christianity in England. It was here, according to legend, that Joseph of Arimethea and the boy Jesus built a church. After Jesus' crucifixion, Joseph returned with the Holy Grail, which he buried there for safekeeping. When he buried the cup that had once contained the blood of Christ, a spring flowed forth, known as Chalice Well. It is said that those who drink of its waters will have eternal youth. This myth later intertwined with another legend, and it was told that King Arthur, reportedly buried here, came to Glastonbury in search of the Holy Grail.



6. Christ Redeemer Statue, Rio de Janeiro, Brazil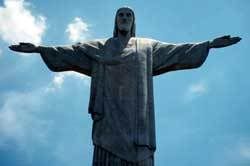 This statue of Christ stands on top of Corcovado Mountain in Tijuca National Park. It is 30 metres (98ft) tall, weighs 1,145 tons (2.5 million lbs.),and his arms span 92 feet, overlooking the city of Rio de Janeiro. This statue depicts the loving Savior who opens his arms wide to embrace the world. Every person is given his love and grace. There are no conditions, no pre-requisites, no limits. This Christ is looking over all that is dear to me, protecting, guarding, loving, and guiding. This Christ is the Light in the Darkness. illuminating the path to abundant life. This Christ is the Liberator who sets us free from the oppressions of others and from our own doubts and fears. This Christ is the miracle worker, through whom the impossible is made real.



7. Shrine of the Martyrs of Japan, Nagasaki, Japan
This is perhaps one of the most meaningful sites for me personally. I still remember standing in front of their shrine after reading their story and weeping. In 1597 26 Christians, some Japanese, some European missionaries, were marched from Kyoto to Nagasaki to be cruficied for their faith. A few were mere boys; yet possessing more courage and faith than most adults. THe crosses were made to measure for each one. When they arrived, the embraced their crosses and willingly allowed the executioners to do their jobs. On the crosses these men prayed, sang hymns, and preached the gospel to those who witnessed their martyrdoms. At the appointed time each was pierced with two spears in the chest, killing them instantly. When all had died, the Christians who witnessed their deaths burst throught he guards to soak cloths in the blood of the martys to ahve relics of these holy saints. These are the men who gave theor lives for the sake of the Gospel of Jesus Christ:


1. ST. FRANCIS, a carpenter from Kyoto, resolute and loyal, who insisted on following the martyrs until he was arrested and could join the group. Some of the chronicles call him Adautus, after a similar case in the early church.

2. ST. COSMAS TAKEYA, a sword-maker from Owari. He had been baptized by the Jesuits and worked as a catechist with the Franciscans in Osaka.

3. ST. PETER SUKEJIRO, a young man from Kyoto, sent by Fr. Organtino to care for the martyrs on their way to Nagasaki. His devotion to duty secured for him the grace of joining them.

4. ST. MICHAEL KOZAKI, a native of Ise, 46 yeas old and a bow maker. he was already a Christian when he first met he friars and his skill as a carpenter was a great help in building the Francisan convents and churches of Kyoto and Osaka. He also trusted them with something he treasured over everything else: his own son Thomas.

5. ST. JAMES KISAI, a Jesuit lay brother, a man of deep devotion to the Passion of Christ. Sixty-four years of age, he had known a life of hardships, and excelled for his kindness and peace of heart. Born in Okayama, he had been in charge of the guests at the Jesuit residence.

6. ST. PAUL MIKI, had been born in Tsunokuni district, the son of a brave soldier, Miki Handayu. Educated as a boy in the Jesuit schools of Azuchi and Takatsuki, he had witnessed the ups and downs of the Church in Japan. Paul Miki treasured his vocation to spread the gospel over everything else, and was near being ordained as a priest. the best preacher in the country he fell silent when the executioner's blow shattered his heart. He as only thirty years of age.

7. ST PAUL IBARAKI, born in Owari, of a samurai family. Baptized by the Jesuits, his faith went through a time of testing, and only in his final years could he find peace of soul, thanks to the Franciscans in Kyoto. He led a poor man's life near the Franciscan convent of Our Lady of the angels, running a small sake brewery to support his family, and could still afford to help others poorer than himself. He was also native as a preacher.

8. ST. JOHN OF GOTO, a portrait of innocence and joy, a short life of 19 yeas fully used in the service of God. Born in the Goto islands fom parents already Christian, he studied with the Jesuits in Nagasaaki, and then at the Jesuit school in Shiki(Amakusa), a training center for catechists who also help the missionaries as painters or musicians. His next post was Osaka where he worked under Fr. Morejon until the Lord offered him the crown of martyrdom.

9. ST. LOUIS IBARAKI, the youngest of the group, only 12 years old. He had been born in Owari and was the nephew of Paul Ibaraki and Leo Karasumaru. an endearing boy who kept singing and laughing when they cut off one of his ears, all through the long march to Nagasaki and on the cross too, he proved his mettle when he refused pointblank to be cajold into apostatizing. "We have little Louis with us - wrote Fr. Francis Blanco on he eve of martyrdom - and he is so full of courage and in such high spirits that it astonishes everybody.

10. ST. ANTHONY, born Nagasaki of a Chinese father and Japanese mother. An artless boy 13 years old, he had received his first education at the Jesuit school in Nagasaki and went then to the Franciscan convent in Osaka. The bitterest thing the boy was to see was his mother crying not far from his cross. He died a singing martyr.

11. ST. PETER BAPTIST. Superior of the Franciscan Mission in Japan, former ambassador from Spain, a father to the poor lepers, a captain of martyrs. From San Esteblan del Valle (Avila, Spain) where he was born, to Nishizaki Hill, his life of 50 years is too rich in merits and holiness to be summarized here.

12. ST. MARTIN OF THE ASCENSION, born in Guipuzcoa, Spain. He was 30 years old, His purity of heart was extraordinary, and this may be a clue to his fondness for singing. Told by his superiors to be ready to go to the Philippines, he went to Seville. In the old Franciscan convent he used o spend the nights in prayer, taking turns with another friar. His missionary work in Japan (Osaka) was short lived, but his death was most outstanding.

13. ST. PHILIP OF JESUS, a mexican, 24 years old. a vase of sterling silver, which God knew how to emboss. His young life had been a maze of conflicting roads, a contest of trength between Christ and Philip, neither of the two willing to concede defeat. In the end Christ had emerged the victor, and Philip is now anxious to make up for the lost time: he will be the first to die.

14. ST. GONZALO GARCIA, 40 years, born in the remote Bazain, (India) of a Portugeuse father and an Indian mother. A catechist with the Jesuits and a trader in Macao, he entered the Franciscans as a lay brother, and was thee right hand of St. Peter Baptist. He spoke Portuguese with a stutter, but when he confronted Hideyoshi, absolute ruler of Japan, his Japanese came out without a hitch. He is the patron saint of Bombay.

15. ST. FRANCIS BLANCO, was born in Monterrey (Galacia, Spain) and came to Japan with St. Martin of the Ascention. Like him, he had also traveled on foot to Seville before boarding a ship for Mexico and proceeding to the Philippines. A quiet, soft spoken man and extremely intelligent.

16. ST. FRANCIS OF ST MICHAEL, 53, born in La Parrilla (Valladolid, Spain). He was so unassuming in life that he well deserves a special eulogy after death. "Seeing his good heart, physical strength and simplicity, he was accepted into the Order as a lay brother", say an old chronicler appropriately. Br. Francis had his own brand of humour too: "The bell for diner will toll tomorrow", he used to answer when asked to break his fast. When he was in Manilla he enjoyed breathing "the winds from Japan" but once he set foot on the Japanese mission he had to go through a dark night of the soul feeling that he was useless and had better return to the Philippines. He died in silence, just as he had lived.

17. ST. MATTHIAS. We know nothing about his age, place of birth or date of baptism, only his name and the reason why he joned the martyrs. The soldiers were looking for another Matthias who could not be found. Or saint offered himself and the soldiers gladly accepted him. God accepted him too.

18. ST. LEO KARASUMARU, from Owaru, younger brother of St. Paul Ibaraki. a bonze in his youth, he was converted by Japanese Jesuit and always led an exemplary life. When the Frnciscans arrived, he became their main support. When it as a matter of building a church, buying a piece of land or running a hospital, the friars could always count on Leo. A zealous catechist and a man of prayer, he was a leading figure among the lay martyrs.

19. ST. BONAVENTURE. His young life bears the seal of inscrutable ways of Providence. Baptzed as an infant, he soon lost hhis mother, and his sepmother sent him to a Buddhist monastery. One day he found out abou his baptism, and came to visit the Fraciscan convent in Kyoto, his place of birth, eager to have further information. here he found agin his peace of soul. On his way to the cross he prayed for his father's faith and the conversion of his stepmother.

20. ST. THOMAS KOZAKI. With the rugged manners of a country boy, this fourteen year old had a beautiful heart, much like the Pearls of his native Ise. He was already Christian when he became acquinted with the Franciscans while helping his father as a carpenter, and stayed at the Fanciscan convent once the job was finished. He wa straightforward, unhesitant and totally committd in his service to God. His farewell letter to his mother, written from Mihara castle is one precious stone more in the saga of the 26 Martyrs.

21. ST.JOACHIM SAKAKIBARA, 40 year old, a native of Osaka. In gratitude for his baptism, received from a catechist when he was gravely ill, Joachim helped out in the construction of he Franciscan convent in Osaka and stayed on here as a cook. A an of very strong character, he excelled for his kindness and readiness to serve, a fitting preparation for the martyrs' crown.

22. ST FRANCIS. Born in Kyoto, 48 years old. He was a physician and a zealous preacher. While still a pagan he used to wear a rosary that had belonged to Otomo Sorin, rhe Christian lord of Bungo. Divine Providence brought him into contact with the Franciscans, after his Baptism and the conversion of his wife, he lived next door to the franciscan convent, treating the sick without pay, and leading them to Christ.

23. ST THOMAS DANGI. A druggist, with an extremely violent disposition, he mellowed with God's help into a kindhearted catechist. A Christian of many years, he opened his shop next to the Franciscan convent of Our Lady of the Angels, and while selling medicine he also took care to show the customers the way to heaven.

24. ST. JOHN KINUYA, 28 years old, from Kyoto. A silk weaver and trader, he had recently been baptized and moved his shop next to the convent. His silk fabrics, smooth and brightly coloured, expressed the quality of John's prayers and love. And God graciously accepted John's life of work and prayer.

25. ST. GABRIEL, a native of Ise, 19 years old, another young life ungrudingly offered to God. Converted by Br. Gonzalo, he made quick progress in his way to God, overcoming all kinds of obstacles. Gabrel worked as a catechist.

26. ST. PAUL SUZUKI, 49 years old, from Owari. His cross was at the end of the row and his voice, all fire and zeal, could be heard un impeded. He had received baptism 13 years before. A man of impetuous character - and many a scar on his body to testify to that - he excelled for his apostolic zeal and was one of the best catachists helping the Franciscans. He was also in charge of St Joseph's Hospital in Kyoto.

(Thanks to Diego Yuki, SJ, for the information on the martyrs.
:: posted by Padre Rob+, 11:58 PM
0 Comments: