a priest's musings on the journey
Friday, May 25, 2007
Sermonette: Pentecost C
I was raised in a Pentecostal Church, so the Holy Spirit has always been a central part of my experience of God. The goal of the Christian life was to be filled with the Spirit, and one knew that had happened by becoming "baptized in the Holy Spirit" and speaking in tongues. People desiring the baptism of the Spirit would have hands laid on them and they would "tarry" in prayer and praise until the Spirit descended upon them, as the Spirit did on the Day of Pentecost. After some time, and in some cases many attempts, the person would begin to speak in tongues, and all would rejoice and dance in thankful praise. In fact, worship was often characterized by a jubilant and chaotic rhythm of dancing, shouting, and speaking in tongues.
So, it's easy for me to imagine what Luke is trying to describe as the Holy Spirit descends upon the 120 in the Upper Room on the Day of Pentecost with the sound of a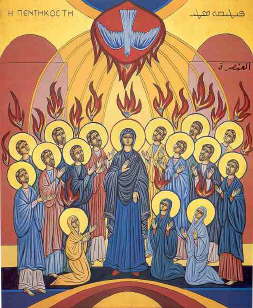 mighty, rushing wind and tongues of fire. I can also appreciate why the Spirit appeared in this way. Some of us get so obsessed with this manifestation of the Spirit, that we cannot see its purpose. The tongues of fire came not to usher in a new mystical experience in and of itself, but to usher in a new creation- to give life to a new incarnation of Christ in the world. We first see the Holy Spirit in the first verses of the Bible, brooding over a chaotic void, calling light out of darkness, and birthing life out of barrenness. Later in the Creation Story, it is the Spirit who is breathed by God into the human being, making
A-dam a living soul. On the Day of Pentecost, the Spirit breathed the breath of God upon the gathered followers of Christ, and transformed them to be the body of Christ in the world. Before this day, these disciples had experienced God in Christ in the person of Jesus, who walked among them as God with them. On the Day of Pentecost, the Holy Spirit enabled them to experience God in them and to discover Christ in one another. More than that, the Holy Spirit enabled them to recognize that all people were now invited to share in the life of the Spirit and to find a their own place in the body of Christ.
Luke doesn't really tell us who was present in the Upper Room with any great detail. But he goes out of his way to tell us of all of the ethno-linguistic groups who were present in Jerusalem for the great feast of Pentecost- which was one of the major festivals of the Jewish religion. In Exodus, the feast is described as a Feast of Harvest, celebrated fifty days after the Passover. After the Babylonian Captivity of the Jews, Pentecost became an important festival for the Jewish Diaspora, who began to make a pilgrimage to Jerusalem for the celebration of the feast. Luke tells us that there were people from almost every language and ethnic group represented in the Roman Empire in Jerusalem to worship God at the feast of Pentecost. Suddenly, this wild group of men and women charge out of the Upper Room where they had been praying, and begin to proclaim the Gospel of God's salvation through Christ to those in the streets. Some thought they were drunk. But most were amazed, because all heard the message of God's mighty acts in their own language. The divisions of Babel had been reversed; no longer would we be divided by language and culture. Now, God was inviting us all to be a part of the life of the God. Now, the Spirit was giving birth to a new community and to a new way of experiencing God. This new community is one centered in Christ, who is the source of its unity. It is a community of diversity without division, and unity without uniformity, as Dan Clendenin reminds us in his essay, "Beyond Babel." It is a community that embraces and celebrates the diversity of culture, social status, gender, sexual orientation, and ethnicity of its members, and yet transcends the diversity, in order to create the one body of Christ.
In the end of the Book, the Apostle John sees a vision of what this community birthed at Pentecost looks like in its maturity: he sees a multitude of people from every nation, tribe, language, and culture offering praise to God around God's throne. A community that has recognized the Holy Spirit present in one another, and has allowed that Spirit to knit them together in community, even when their differences might suggest they should exist in isolation from one another.
On this Pentecost, we can look back to the story of Acts to see the birth of this community, and we can look forward through John's visions to see God's dream for this community. But, as we look at the present, we see that God's dream isn't a reality yet. Here in the South we still have churches for different ethnic groups; which is not necessarily a bad thing- after all, there is beauty and comfort that comes from praying with people who share your cultural story and ritual. But we all know, that in many cases, these separate communities exist because some groups will not include those who are not like them in their community of prayer. In our own Anglican Communion we are divided over theological disagreements which threaten to divide us. Instead of acknowledging that we can have different opinions and serving the one Christ who is present in each of us, some are walking apart and refusing to serve the Christ in those who are not conformed to their vision; they are confusing uniformity with unity.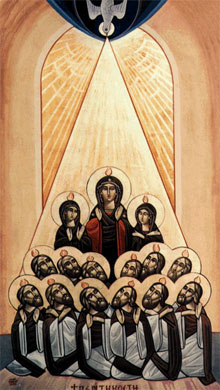 What do we who desire to live into this community that the Holy Spirit is creating do to bring reconciliation? How do we embrace those who do not want to be embraced by us? How do we include those who exclude us? The Rev. Ann Fontaine suggests that there are eight ways that we nurture this community into which we all have been born through our baptisms.
1. Gather and support one another.
2. Devote ourselves to prayer and study of the Bible and those who have gone before us in faith.
3. Serve one another and the world in Christ's name.
4. Obey Jesus' commandment to love one another.
5. Witness and teach our faith to others - by word and deed.
6. Invite others into our community and make them feel welcome when they come.
7. Remember we know only in part - all is not revealed to us, sometimes we have to wait for more information before moving ahead or making judgments.
8. Open ourselves to the power of the Spirit to strengthen us and empower us to do the work we are given to do.
In the end, community is a gift that the Spirit gives us; but a gift that has already been offered to us who have been baptized into the community of Christ, who joins us to community of the life of God. When we are intentional about nurturing community through these ways and through the promises we have made in the Baptismal Covenant, then the Holy Spirit is able to empower us to go into the world as agents of reconciliation and ambassadors of transformation.
Therefore, on this day when we remember the Church's birth, I ask you to recall the day you emerged from the womb of the Spirit and became a part of this community of Christ. As we re- member the moment of our new birth, let us pray that the Spirit will come among us, and incarnate God within ourselves; and, let us renew the commitment we have made to Christ and to one another in the words and promises of the Baptismal Covenant.
:: posted by Padre Rob+, 11:44 AM
4 Comments:
Nice post. Pentecostal to Episcopal? I see that I'm not the only individual who has made a pretty drastic move within the Christian tradition. Actually, your move is probably more drastic than mine. =) Independent, fundamental Baptist to Alliance/UCC. But my fabulously loving grandmother is a devout Pentecostal. I always admired her charisma!
Anyway, check out my own personal rendition of Pentecost:
THE DAY OF RECONCILIATION AND LOVE
Great sermonette. Glad to read this from a fellow former Pentecostal!
Thanks for your sermon - I had the experience of "tongues" too - I can see how that could become the focus as it is very freeing and mystical. The Acts stories help me to see that it is for "more" than my own personal spiritual life.
This actually helped me with my sermon.

xoox