a priest's musings on the journey
Sunday, May 27, 2007
Happy Pentecost
This is one of my favorite icons for this day because it includes the Most Blessed Virgin Mary in the center- representing the heart of the Church- and the holy women who were also in the company of Jesus (probably St Mary Magdalene, the Apostle to the Apostles, and St Joana.
This is a more traditional icon, which I don't like because it excludes the Mother if God and the other holy women. However, I do like the symbolism of the King, who represents the inhabited world that is being renewed by the Holy Spiirt as the Gospel is proclaimed to all in their own language.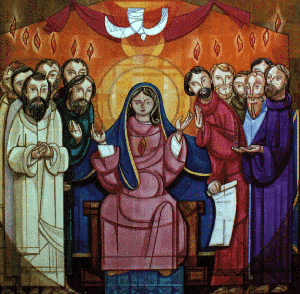 This one is a Mexican Icon of the Descent of the Holy Spirit.
African Pentecost
Pentecost India
Asian Pentecost
Jesus Breathing the Spirit on the Apostles by Sadao Watanabe (one of my favorite artists)
:: posted by Padre Rob+, 3:23 PM
4 Comments:
Dang, you beat me to it. I am posting the Indian one tomorrow anyway as planned... Have it in my archive ready to go but wanted to live with just the Taizé bright red dove for 24 h.

And I love Sadao Watanabe! I looked around to see if he had anything but couldn't find any on the web. So glad you found this.

I also really like the Mexican one you posted. Beautiful.

Still praying to Guadalupe for you.
That Indian piece is just amazing, isn't it!
I think Watanabe has another Pentecost print. I couldn't find either. I once interviewed at a parish in Okinawa (and was actually called, but turned it down) that had several of his prints- so beautiful

Thanks for the prayers. The search committee has recommended me to the vestry, with whom I meet on Thursday. Good Lord, I think my name was giving to them last summer- this is such a long process... light is in sight :)
I think the Episcopal Church specializes in long processes... (More off-blog about ordination process...)

Glad things are progressing! I'll keep praying.
So glad there is progress! We have long interregnums or should thta be interrgna(?) in UK. The people just get on with running the parish and supply priests come in like Father Elton! Lovely icons! Thanks!