a priest's musings on the journey
Monday, May 28, 2007
Feast of the First Book of Common Prayer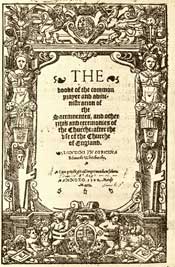 Today, Anglicans celebrate the Feast of the First Book of Common Prayer, although it may be celebrated on any weekday after Pentecost Sunday. The first complete Book of Common Prayer was published in 1549, under the direction of Thomas Cranmer and Nicholas Ridley. It was written to give the Church of England a book in the language of the people that would be a unified and simplified equivalent of the Roman liturgical books. The liturgy in the Prayer Book, first used on Pentecost, June 9, 1546, was crafted from a variety of sources, including the Sarum Rite, Medieval Latin Rites, Greek liturgies, Gallican Rites used in French churches, a Revised Latin Rite used on Cologne, and vernacular German liturgies that had been prepared by Luther. Cranmer simplified these sources, and made it possible for the Rites for our public and private prayer to be found in one book. There have been many revisions of the Book of Common Prayer, but each maintiains the shape and values of the First Book.
You can read the First Book of Common prayer in modern language
here
. (this takes a while to load)
The Rite for the Mass according to the 1549 Book of Common Prayer is
here
.
Almighty and everliving God, whose servant Thomas Cranmer, with others, restored the language of the people in the prayers of your Church: Make us always thankful for this heritage; and help us so to pray in the Spirit and with the understanding, that we may worthily magnify your holy Name; through Jesus Christ our Lord, who lives and reigns with you and the Holy Spirit, one God, for ever and ever. Amen
- Collect for the day
We do not presume to come to this thy table (O merciful Lord) trusting in our own righteousness, but in thy manifold and great mercies: We be not worthy so much as to gather up the crumbs under thy table; but thou art the same Lord whose property is always to have mercy: Grant us therefore (gracious Lord) so to eat the Flesh of thy dear Son Jesus Christ, and to drink his Blood, in these holy mysteries, that we may continually dwell in him, and he in us, that our sinful bodies may be made clean by his Body, and our souls washed through his most precious Blood. Amen.
- from the First Book of Common Prayer-
:: posted by Padre Rob+, 1:00 PM
1 Comments:
Now isn't this interesting! You guys across the pond are celebrating BCP but in England nothing as far as I can see! We do have a day for Thomas Cranmer listed (March 21)in ASB. I don't have Common Worship to hand so I may be wrong.