a priest's musings on the journey
Sunday, November 26, 2006
Sermonette: The Feast of the Reign of Christ the Sovereign One
4John to the seven churches that are in Asia: Grace to you and peace from him who is and who was and who is to come, and from the seven spirits who are before his throne, 5and from Jesus Christ, the faithful witness, the firstborn of the dead, and the ruler of the kings of the earth. To him who loves us and freed us from our sins by his blood, 6and made us to be a kingdom, priests serving his God and Father, to him be glory and dominion forever and ever. Amen. 7Look! He is coming with the clouds; every eye will see him, even those who pierced him; and on his account all the tribes of the earth will wail. So it is to be. Amen. 8"I am the Alpha and the Omega," says the Lord God, who is and who was and who is to come, the Almighty. Rev 1:4-8When they were approaching Jerusalem, at Bethphage and Bethany, near the Mount of Olives, he sent two of his disciples 2and said to them, "Go into the village ahead of you, and immediately as you enter it, you will find tied there a colt that has never been ridden; untie it and bring it. 3If anyone says to you, 'Why are you doing this?' just say this, 'The Lord needs it and will send it back here immediately.'" 4They went away and found a colt tied near a door, outside in the street. As they were untying it, 5some of the bystanders said to them, "What are you doing, untying the colt?" 6They told them what Jesus had said; and they allowed them to take it. 7Then they brought the colt to Jesus and threw their cloaks on it; and he sat on it. 8Many people spread their cloaks on the road, and others spread leafy branches that they had cut in the fields. 9Then those who went ahead and those who followed were shouting, "Hosanna!Blessed is the one who comes in the name of the Lord!
10Blessed is the coming kingdom of our ancestor David!
Hosanna in the highest heaven!"11Then he entered Jerusalem and went into the temple; and when he had looked around at everything, as it was already late, he went out to Bethany with the twelve Mark 11:1-11
The liturgical year ends with the Feast of the Reign of Christ. The Readings give us two pictures of what that Reign looks like. In the Gospel Reading from Mark, we are taken back to Palm Sunday. Once again we witness the crowds waving palm branches and rejoicing in the coming of the King who will liberate them from oppression and establish a righteous Reign of Justice. The alternate Gospel reading from St John's Gospel takes us back to Calvary- where we see the Christ coronated with a crown of thorns, reigning from the Tree of Life. On his right and left he is flanked by thieves and insurrectionists, who, even in their condemnation, are embraced by his outstretched arms of love, and offered a place in his Kingdom.
In the Vision of St John, recorded in the Epistle reading from the Book of Revelation, we see a majestic Christ, the Lord and Sovereign of the Universe, appearing with clouds in Glory. He is seen by all of us as he appears in Glory; but, as we see him in all of his beauty and love, we wail. We wail because we see the wounds that have scarred his sacred heart and his compassionate hands, wounds given to him by our selfish desires, our sins, and our failure to love God and neighbor as we love ourselves. Wounds that bleed every time we ignore the cries of the poor, exclude those who are different from us, persecute those that frighten us, and refuse to be reconciled to our estranged siblings in the household of God. And, yet, the Reigning Christ does not exile us nor does he punish us for our treason. Even though we attempt to kill God, and succeed in doing so, He is merciful to us. His death becomes a door to life, true life, which he offers to the entire creation. He responds to our evil actions with love and compassion; he bids us to turn away from our self-destruction and to receive God's very own life. He draws us in to the Divine Circle of Life, embraces us with those same outstretced arms, crowns us with glory, and offers us a place in His Kingdom.
Of course we are free to decline His invitation. The Reigning Christ is not a tyrrant. He does not force us to submit to His Reign. Rather, he is the Lord of Love and the Prince of Peace. Instead, he tenderly calls us to see God within ourselves, within our neighbors, and within the creation, reflecting the image of the King of Kings, and radiaiting that love and compassion into the darkness of the world. He calls us to be kings and priests in His dominion- calling us to participate in his Rule of Peace, Justice, and Equity.
That all sounds well and good- a lovely idea. But its hard to believe that Christ is truly Reigning when we see war, famine, poverty, increased homelessness, enmity and hatred between peoples and nations and churches. We yearn to find our place in that Rule of Justice; we long for the coming of the Day of Peace, when Christ's rule will hold sway. We await the day when the hungry will be fed, poverty will be no more, swords will be pounded into plowshares and equity and peace will reign in a "earth that is filled with the knowledge of the glory of the Lord as the waters cover the sea." So, we end this year rejoicing in the Reign of Christ, and we turn our eyes to the new year- to Advent and the expectant hope when the "here...not yet" tension of Christ's rule will be replaced by Christ's final triumph over sin and death as He appears in Glory and establishes the Day of the Lord. "and He shall Reign forever and ever. Hallelujah!"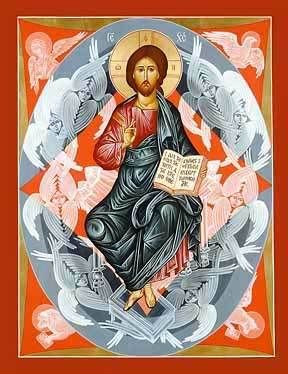 :: posted by Padre Rob+, 12:44 PM
2 Comments:
Blessed is He Who comes in the name of the Lord!

:*